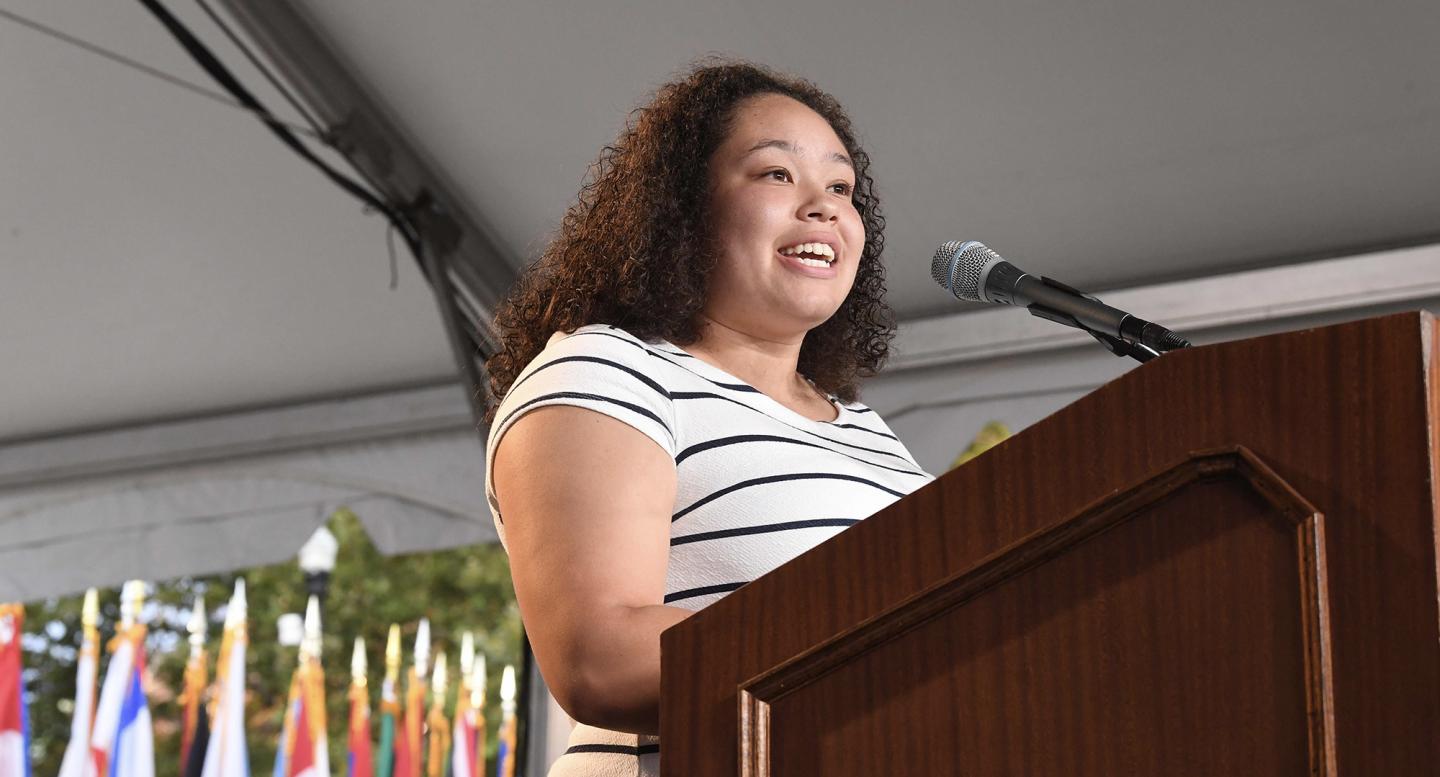 We all live, learn and grow together, and the onus is on all of you to support each other as you go through this journey.
Amaris Benavidez SEAS'19 has definitely found her way at Columbia University. Majoring in computer science with a sociology minor, she has become a true community builder in several capacities on campus. She also served as chair of the 2018 New Student Orientation Program.
At the orientation program in August for new students at Columbia College, Columbia Engineering and the School of General Studies, Amaris shared the theme selected for the Class of 2022: "Find Your Groove."
"You have come to Columbia with your incredible passions, dreams and stories, and we want you to use these to find your groove and be your best, challenge yourself and have the greatest experience at Columbia," Amaris said. "It may take time to find your groove, or it may happen quickly; it's different for everyone."
Amaris said her first experiences finding a community came right away in her residence hall, John Jay 12.
"We were adventurists, travelling around New York City each weekend. Our favorite thing to do was finding new picnic spots in Central Park."
She and her floormates quickly progressed to going beyond sharing New York together to sharing life.
"We were support systems for each other — serving as a shoulder to cry on, and showing we care in small ways, like sliding notes under someone's door if they've had a rough day.
This is how I began to shape my Columbia Community."
Amaris wound up serving as a member of the Residence Hall Leadership Organization and as the community coordinator for a music-based Special Interest Community, on top of being an orientation leader as a sophomore and assisting in residential life programming as a junior.
Amaris told the new students that to follow one's dreams, it takes a community.
"I spend each day enjoying the friendships I've created," she said. "I rely on outstanding advisers to support me in pursuing my dreams of becoming a changemaker. And I must admit, I FaceTime my family so much, because they remind me of what's important in life. Each of these groups of people play a vital role in my interconnected community."
While she urged students to not hesitate to reach out for help, she also urged them to consider how they can help and support others.
"We all live, learn and grow together, and the onus is on all of you to support each other as you go through this journey."